My hair...
As most of you know, my hair was pretty long - past my ass long - so long that people know me by my hair alone.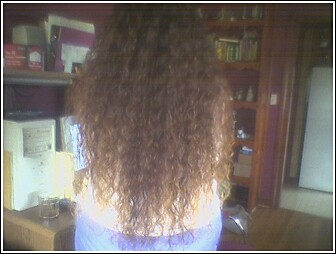 It's naturally curly and really thick. As unruly as a rebelling teenager and twice as unpredictable. It would entangle you if you got close enough and stick to the head rests in your car. Had I ever killed anyone, even with a swimmers cap on, a hair would have been left behind for forensic teams to analyze and extract my DNA. Even though it caused a 12 year headache, I would not cut it. My fathers forbid me to cut it. My husband ask me to never cut it. It was so overpowering to people that they would always want to touch it, just on the ends but never play with it.
Those days are gone.
Wenesday, I was approached and ask if I would cut my hair for a child that had leukemia. She had undergone surgery and chemotherapy. She had survived the cancer, only to be bald. Her bald head drew unwanted sympathy that forced her to tell or hear her story being told - over and over again. She wanted nothing more than to move on. I called Tim. I made an appointment with the chick that cuts my Mom's hair.
Thursday, I bravely walked into a beauty salon. A foreign place to me. I haven't been in one, as a customer, since - well - I can't remember. I sat in the chair and watched in the mirror as 14 and 1/2 inches, of my own hair, was cut from my head. I shed not a tear but a sigh of relief. As the scissors reached the middle area of the hair she was removing, my headache of 12 years instantly went away. My sore neck almost was unsore and my eyebrows relaxed into a position that looks completely more natural. Relief! After she cut my hair, she washed it and styled it and I walked out into the sunlight and cool morning air with a new, bouncy, sassy hair doo.
The results from one hair cut could not be more amazing. One hair cut lead to the complete rejuvenation of two young ladies with a lifetime of possibilities that are more clear now than before.
Links are coming but I'm exhausted - and not from cleaning!